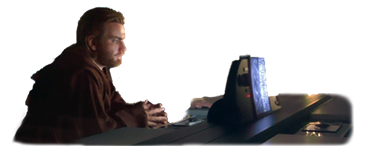 ---
4/9/2015, StarWars.com
The wait is nearly over. Star Wars Celebration Anaheim is so close that I can practically hear the sounds of Darth Vader cosplayers breathing. While you should absolutely leave room for spontaneity in your schedule, having a loose plan in place and knowing what to expect will make four days of nonstop Star Wars seem less overwhelming and way more fun — and fun is the operative word. It can be easy to get wrapped up in the details and get stressed, but that path leads to the dark side. I have some general Celebration advice and some tips specific to the location to help you be as prepared as a Jedi Master.
4/8/2015, StarWars.com
As announced earlier this week in news worthy of a Naboo parade, the Star Wars films are coming to Digital HD with The Star Wars Digital Movie Collection. This marks the first time that the saga of Skywalkers, Hutts, and Salacious Crumb will be available for mobile devices — and there's even more galactic goodness.
4/6/2015, StarWars.com
The Star Wars films will soon become more powerful than you can possibly imagine: the classic series is going digital for the first time ever.
4/2/2015, StarWars.com
In 2012 Jeffrey Brown took an idea for a Google doodle and transformed it into the New York Times bestselling book, Darth Vader and Son. This spring, Chronicle Books publishes Darth Vader and Friends, an endearing look at the friendships between best pals in the Star Wars universe — and StarWars.com has your first look!
3/21/2015, StarWars.coms
John Williams is currently hard at work composing the score for Star Wars: The Force Awakens, which will be recorded in Los Angeles. For the recording of the score, Williams will work with members of the superb freelance orchestra with which he's recorded numerous film scores over the years. The music will be recorded over several months while working in tandem with the film's editorial and special effects teams on the West Coast.
3/13/2015, StarWars.com
StarWars.com proudly presents the debut image from Marvel's first entry in Journey to Star Wars: The Force Awakens: the cover to Shattered Empire #1. Are you ready for the journey?
3/12/2015, StarWars.com
This morning at the Palace of Fine Arts in San Francisco, across the street from Lucasfilm, Disney chairman and CEO Bob Iger hosted a shareholder meeting where he announced news regarding the first Star Wars stand-alone movie as well as Star Wars: Episode VIII.
3/10/2015, StarWars.com
Star Wars fans will soon uncover some major secrets — without the need for Bothan spies. Disney Publishing Worldwide and Lucasfilm announced today an ambitious publishing programming, "Journey to Star Wars: The Force Awakens," which will lead into the highly-anticipated Star Wars: The Force Awakens, coming December 18. Journey to Star Wars: The Force Awakens, kicking off this fall, is planned to include more than 20 titles available in print and digital, and will feature new narrative stories for middle grade and young adults as well as comics, illustrated reference, Look and Find, and sticker book formats. Stories are set to star characters old and new, and retell classic Star Wars tales from new perspectives.
3/7/2015, LATimes.com
Every few years, a small propeller plane from Santa Monica Airport crashes in a residential area. They have hit streets, garages, an apartment house carport and occasionally a home.. On Thursday, it happened again. Only this time actor Harrison Ford avoided houses and crash-landed his vintage military trainer in the only open space near the runway — the Penmar Golf Course in Venice.
3/5/2015, StarWars.com
StarWars.com concludes its deep dive into Season One of Star Wars Rebels with executive producer Dave Filoni, discussing the biggest moments of the thrill-a-minute season finale — including the return of a certain Sith Lord and his former Padawan — and what it all means for the Ghost crew. (Consider this your official spoiler warning and, in case you missed them, be sure to read part one and part two of this interview!)
3/3/2015, usatoday.com
A Jedi has returned to the Star Wars galaxy. Ahsoka Tano, an apprentice to Anakin Skywalker before his transformation into Darth Vader, was revealed as the mysterious hooded informant Fulcrum in Monday night's first-season finale of the Disney XD animated series Star Wars Rebels.
3/3/2015, StarWars.com
New guests — including a cloaked, lightning-shooting, Order 66-ordering Dark Lord of the Sith — and events are now confirmed for Star Wars Celebration, April 16-19 in Anaheim. Get the full details below!
2/27/2015, StarWars.com
Star Wars: Heir to the Jedi — the first-ever novel written from Luke Skywalker's point of view — hits stores March 3. Written by Kevin Hearne and set between Star Wars: Episode IV A New Hope and Star Wars: Episode V The Empire Strikes Back, it finds the not-yet-a-Jedi hero sent on a daring rescue mission by Rebel leaders Princess Leia Organa and Admiral Ackbar. Showcasing Luke at a key point in his life, Star Wars: Heir to the Jedi is essential reading.
2/26/2015, StarWars.com
Now, after almost 14 years of working on Star Wars, it's time for another life. I'm moving on from Lucasfilm. But I'm not completely moving on from Star Wars, thank the Maker. In my new job at ReedPOP I will remain working on Star Wars Celebration from their side, the show production side. Those of you working with me on the show now — on panels, programming, fan tables, etc. — will find me still there with you. I'll just have a different email address.
2/13/2015, StarWars.com
For J.J. Abrams, the Star Wars Celebration circle is now complete. StarWars.com is thrilled to announce that the director of Star Wars: The Force Awakens — who once attended Star Wars Celebration as a fan — is confirmed to appear at Star Wars Celebration Anaheim this April. Abrams and Lucasfilm president Kathleen Kennedy will kick off the show in a big way on Thursday morning, April 16, at 10:00 a.m. This will be a day long remembered.
2/3/2015, StarWars.com
Visiting a galaxy far, far away is somewhat cost-prohibitive and often difficult. You have to hire a pilot (a hefty sum, especially if said pilot owes Jabba money); directions come in the form of visions of the ice planet Hoth, usually after surviving a wampa attack; and asteroid fields are really bad for traffic. But don't worry — thanks to Madame Tussauds, you can avoid all of that. The characters and locales of Star Wars are coming to you.
1/29/2015, StarWars.com
The Empire Strikes Back is widely hailed as the best of the Star Wars films — the most humorous, the most romantic, and the most emotionally complex. On December 18 of last year, Film Independent (a non-profit organization that helps filmmakers and triumphs independent movies) paid tribute, holding a live table reading of Empire as part of its Live Read series for the Los Angeles County Museum of Art.
1/16/2015, StarWars.com
Star Wars Rebels has established Kanan as a heroic — yet flawed — Jedi. He doubts himself, he loses his patience, and he struggles in his new role as a teacher to Ezra. An Order 66 survivor, he also seems haunted by his past; finally, that past will be explored in Marvel's Kanan: The Last Padawan series, coming this April. And StarWars.com has an exclusive first look at young Kanan — then known as Caleb Dume — right from the sketchbook of series artist Pepe Larraz!
1/16/2015, StarWars.com
With months of training, costume making, and gearing up behind us, the day has finally come! As the Star Wars Half Marathon Weekend kicks off, I've got a full report on the runDisney Health & Fitness Expo and Wookiee Welcome live from the Disneyland Resort.
1/15/2015, StarWars.com
The Star Wars saga has it all. Action, space battles, lightsabers, interesting characters. Everything. Fans discuss every aspect of the saga and channel their enthusiasm into blogs, fan films, podcasts, and crafts. I'm constantly surprised by what they do. I know, it's a phrase I repeat again and again, but hey, that's why this column exists.