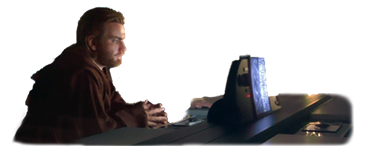 ---
1/13/2015, StarWars.com
Star Wars posters are an art form unto themselves. For an artist to capture the essence of Star Wars on a poster — the feel and look of the films, the drama of the stories, Han Solo's overall awesomeness — isn't easy. To do it in concert with their own sensibilities is even harder. But Craig Drake's stunning new Star Wars Celebration poster, the official key art for April's mega-event, appears effortless.
1/5/2015, StarWars.com
"Once more, the Sith will rule the galaxy." So said Darth Sidious upon the turn of Anakin Skywalker to the dark side, and he was right (for awhile…). Only this time, they'll do it in 3D.
1/1/2015, forbes.com
Okay, it's New Year's Day, so nothing too taxing for the day. I can wait until tomorrow for something that requires anything resembling big picture thinking or complaining about the things I always tend to complain about. This one is purely for fun, but as the new year begins, let's take a quick look at some of what likely will be the biggest would-be blockbusters of 2015. This list will be in order of release and I've tried to spread out the wealth in terms of the release calendar by choosing what I think could be the biggest film of each respective month, or at least the one that I find most worth discussing. That's basically because I didn't want to spend the whole piece discussing films dropping in April, May, June, November, and December.
12/31/2014, variety.com
Disney XD's "Star Wars Rebels" is bringing back a familiar voice for its Jan. 5 return: beloved Jedi Master Yoda (Frank Oz), who escaped the Jedi purge and fled to Dagobah following Anakin Skywalker's betrayal and the fall of the Republic in "Episode III: Revenge of the Sith."
12/30/2014, ew.com
Stormtroopers and the Millennium Falcon have eclipsed the hype for Ultron and killer dinosaurs—so claims Fandango's annual survey of the most-anticipated films for the coming year. The ticket service says Star Wars: The Force Awakens is the most eagerly awaited movie of 2015 even though it doesn't open until next December. In second place was the return of Marvel's all-star team in The Avengers: Age of Ultron. Ranking third is the conclusion of The Hunger Games franchise with Mockingjay — Part 2. In fourth place was the only non-sequel to make the list: Fifty Shades of Grey, which of course is still a widely known format as it's based on the bestselling erotic novels. The reboot of the Jurassic Park franchise, Jurassic World, was No. 5.
12/20/2014, cnet.com
For the first time in decades, Lucasfilm sends an animated holiday greeting rather than a collectible print card. The stars: crafty "Star Wars" droids R2-D2 and C1-10P Chopper.
12/15/2014, StarWars.com
The last time we saw the Emperor's "little green friend" in Star Wars: The Clone Wars, he was traveling to Force planets, encountering evil spectres of ancient Sith, and unlocking the path to immortality. Not a bad bit of work! But there's no rest for a Jedi Master, as we'll soon see on Star Wars Rebels.
12/11/2014, ew.com
We finally got to meet some new characters in the teaser trailer for Star Wars: The Force Awakens, but now we're getting to put some names with the faces. J.J. Abrams, the film's co-writer and director, and Kathleen Kennedy, president of Lucasfilm, have decided to reveal the identities of some of their new characters exclusively to EW—and they've done it in a retro fashion that should bring a smile to anyone familiar with the phrase "Collect 'Em, Trade 'Em." That was the catchphrase of the Topps trading card company, which in addition to baseball players and comic book characters put out a series of collectible cards featuring scenes and characters from around the galaxy for the original 1977 Star Wars movie.
12/10/2014, variety.com
Two years after buying Lucasfilm for $4 billion, Disney is starting to reveal just how "Star Wars" will be integrated into the company's theme parks. Main attractions will be based on new sequels and spinoffs — the first of which, "Star Wars: The Force Awakens," bows next year — not the older films in George Lucas' sci-fi franchise, according to Walt Disney Co. chief Bob Iger. "There will be a much larger 'Star Wars' presence in our parks globally," Iger said during a Q&A at Variety's Dealmakers Breakfast on Wednesday, presented by Bank of America and sponsored by Delta. "But we want to do this big, which takes time, and to do it right."
12/3/2014, bgr.com
It's been less than a week since the exciting new Star Wars trailer came out but fans who still feel understandably burned by Jar-Jar Binks have already found something to whine about: The major redesign of the films' iconic light sabers. You see, instead of being a straight-up light saber as in the old movies, the new films show a contraption that looks more like a light bastard sword with two extra little light sabers that stick out from the sword's main hilt, as you can see in the photo above.
12/1/2014, bbc.com
The 88-second trailer for Star Wars: The Force Awakens has amassed more than 40 million YouTube views in 72 hours. But it has also inspired a series of spoofs, including a "George Lucas edition", which pokes fun at the director's poorly received prequels.
11/28/2014, time.com
Hey, remember how you bought tickets to whatever movie so you could see that 88-second teaser to the new Star Wars movie? Well, while the theater appreciates your money, Disney is releasing the trailer on iTunes at some point today—which is nice for the people who didn't happen to live anywhere near one of the few theaters showing it.
11/28/2014, bbc.com
It's the trailer that has perhaps seen more speculation than any other in movie history. The teaser for Star Wars: The Force Awakens has just been released, revealing details about a film that's been kept under wraps to a remarkable degree.
11/6/2014, abc.com
Filming on the movie wrapped up last week. In addition to the original stars like Harrison Ford, Carrie Fisher and Mark Hamill, "Episode VII" will feature a slew of newbies, including "Girls" star Adam Driver, Andy Serkis and Oscar nominee Max von Sydow. Since then, Oscar-winner Lupita Nyong'o and Gwendoline Christie from "Game of Thrones" have also joined the cast.
10/31/2014, bbc.com
Laurie Goode was a professional musician who supplemented his income working as a film extra. One spring day in 1976, a chance series of events changed his life. Laurie received a phone call asking if he would be free for some work as an background artist on a science fiction movie that was being filmed in Elstree. He was called up because a friend of his had pulled out because of illness.
10/31/2014, screencrush.com
'Star Wars: Episode 7′ will wrap up filming within the next couple of weeks and then J.J. Abrams and his team have a year of arduous post-production ahead of them. Surely the last thing Abrams has on his mind is a trailer, right? We probably won't see the first teaser until a few months into 2015, right?
10/29/2014, telegraph.co.uk
Actor Ewan McGregor, who starred as Obi Wan Kenobi in George Lucas's trilogy of Star Wars prequels, has spoken out about his hatred of the Star Wars memorabilia market. "I've never been to one of the [fan] conventions" McGregor told the US men's magazine Details. "The people I meet are the f---ers who want me to sign Star Wars photos so they can sell them on the internet, or the people at premieres who are crushing children against barriers to get me to sign their f---ing picture of Obi-Wan Kenobi.
10/29/2014, cnet.com
When George Lucas was 8, he asked his mom, "If there's only one God, why are there so many religions?" He's been fascinated by that question ever since, and has come to the realization that when you strip all religions and mythologies down to their very basic level, it's really all about compassion.
10/29/2014, TheForce.net
Lucasfilm has just announced "Rebel, Jedi, Princess, Queen: Star Wars and the Power of Costume," a collection of Star Wars wardrobes that will tour twelve cities in the U.S. beginning in Seattle, Washington, on January 31, 2015. The collection features "60 hand-crafted costumes from the first six Star Wars films, with behind-the-scenes details of the artists' creative process and in-depth look at the connection between character and costume." It's a collaboration between Lucasfilm, the Smithsonian Institution Traveling Exhibition Service, and George Lucas' new museum in Chicago, the Lucas Museum of Narrative Art.
10/16/2014, ign.com
The first look was part of a trailer for the series that aired last night during ABC's Toy Story of Terror special. The still image was tweeted by Dave Prowse, who wore the Vader suit in the original Star Wars trilogy.