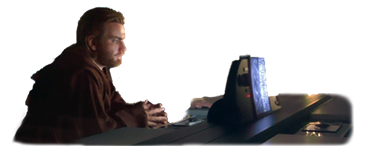 ---
6/22/2015, ew.com
Speaking at the Edinburgh Film Festival, Ewan McGregor, who played young Obi-Wan Kenobi in the Star Wars prequel trilogy, said that he's definitely be up for another trip to the galaxy far, far away. And he has a very specific idea about how it could come about.
6/22/2015, ew.com
Imagine your best friend is directing a Star Wars movie and he wants you to be in the film. That's what happened to actor Greg Grunberg (Heroes, Lost), who was called by his longtime buddy and frequent collaborator J.J. Abrams after the Star Trek director landed The Force Awakens. Below Grunberg, who is signed for three films and reportedly plays an X-Wing pilot, shares his infectious enthusiasm for the eagerly awaited seventh Star Wars feature, which is scheduled to open on Dec. 18. Though Grunberg doesn't give away any spoilers (of course), it's tough not to feel excited about the new film after hearing his perspective—including how the production was so Abrams-esque secretive, even iconic stars like Carrie Fisher couldn't take their scripts home to memorize their lines (which might explain why The Force Awakens script hasn't leaked, even though several plot points from the film apparently have).
6/12/2015, StarWars.com
Are you looking for one of the greatest stars of the Star Wars saga? Well, fear not. After all, fear is the path to the dark side. You seek Yoda. This Friday, Saturday, and Sunday at Disney's Hollywood Studios, Yoda you shall find!
6/11/2015, StarWars.com
Legendary actor Sir Christopher Lee, who played the evil Sith Lord Count Dooku in Attack of the Clones (2002) and Revenge of the Sith (2005), died on Sunday in London at age 93. With a commanding voice, towering height, and powerful presence that combined nobility with a menacing flair, he brought some of cinema's most memorable antagonists to life in unique ways. This included his Shakespearean portrayal of Count Dooku, a dark-side mirror to the elder Obi-Wan Kenobi, who Lee infused with a captivating arrogance and mercilessness.
6/10/2015, StarWars.com
The power of the Force is coming to San Diego Comic-Con, and StarWars.com has your opening crawl for the megaevent's Star Wars programming. Check out our guide below for information on panels that cover Star Wars: The Force Awakens, Hasbro's latest action figures, new novels based on the original films, and much, much more. (If you can't make it, don't worry; visit StarWars.com for exclusive real-time liveblogs!)
6/4/2015, StarWars.com
When the love of your life — your soulmate — dies much too young, you feel cheated. You go through all the stages of grief — slowly — until a powerful idea grabs you, shakes you and just won't let go. Which is why Minnesota artist, Star Wars fan and member of the 501st Legion Kevin Doyle is setting out on a 630-mile walk down the California coast to San Diego Comic-Con International dressed as a stormtrooper, and then back again.
5/28/2015, StarWars.com
Han Solo lounges in the cockpit of the Falcon. His head is tilted, his smile is sly, and his eyes betray an ever-youthful bravado. To his right are two new faces — Rey and Finn. They look confident, excited, cool. In the background is BB-8, the ball-shaped droid. He could be powered off, he could be on. He appears curious and innocent all the same. Above them all is Chewbacca, towering as always, but with a grin and welcoming demeanor. Suddenly, Han's eyes suggest a here-we-go-again wariness, and he now seems almost protective of his younger companions. We're home.
5/25/2015, StarWars.com
It's iconic, it's cool, it's the face of the Empire. It's the stormtrooper helmet, and StarWars.com is excited to reveal ANOVOS' stunning new standalone version!
5/22/2015, StarWars.com
Our Star Wars Weekends event for 2015 is well under way and better than ever! And this week, the incomparable Warwick Davis is among the celebrity guests visiting from that galaxy far, far away.
5/22/2015, vanityfair.com
Pablo Hidalgo's official title at Lucasfilm is creative executive. Unofficially, he is the company's in-house Star Wars geek, a repository of everything known—history, planetology, starship specifications, alien taxonomy, proper spellings—about the galaxy George Lucas created.
5/20/2015, latimes.com
Created by twin brothers Jack and Holman Wang, "Star Wars Epic Yarns" breaks down each of the first three "Star Wars" films into 12 words, depicted by 12 scenes crafted in needle felt. The all-ages board book series features images of handmade needle felt versions of Luke, Leia, Han and other familiar characters staged on custom-built sets and in on-location photo shoots to reenact some iconic scenes.
5/18/2015, vanityfair.com
Lawrence Kasdan's first produced screenplay was for The Empire Strikes Back—not a bad Hollywood baby step! Maybe even more impressively, he had already written the scripts for Raiders of the Lost Ark and The Bodyguard, which would be shot subsequent to The Empire Strikes Back. Kasdan would go on to co-write Return of the Jedi with George Lucas. His films as a writer-director include Body Heat, The Big Chill, Silverado, The Accidental Tourist, and Mumford.
5/15/2015, independent.co.uk
Could we be any more excited for Star Wars: The Force Awakens? Apparently so, as Simon Pegg accidentally reveals that a Bond has turned to the Dark side.
5/13/2015, StarWars.com
Celebration Anaheim gave us a torrent of amazing moments to savor — the emotional impact of THAT teaser trailer, the live-as-it-gets excitement of Smuggler's Bounty, the awesome coverage provided by StarWars.com in the Cantina, the show-stopping bombast of Star Wars Battlefront — but nothing was more crowd-pleasing than the three-and-a-half-minute trailer for Season Two of Rebels, which marked the return of the much-loved Captain Rex voiced by Dee Bradley Baker.
5/6/2015, vanityfair.com
I recently spoke with J.J. Abrams, the director and co-writer of the forthcoming Star Wars: The Force Awakens. While still divulging few details about the film itself, he talked about the sly references to the previous films that he snuck into the new one, his most surreal moment during production, and the truly terrible pun he inflicted upon Max von Sydow.
5/4/2015, vanityfair.com
We've shown you new members of the dark side and scruffy-looking nerf herders, but now Star Wars: The Force Awakens is unveiling something a little more mysterious. Here, in the final Annie Leibovitz portrait from the set of The Force Awakens is Game of Thrones star Gwendoline Christie in all her helmeted glory.
5/4/2015, vanityfair.com
Unlike most film-set photo shoots, there are more than slick costumes and stunning locations on display in these new images from Star Wars: The Force Awakens. Annie Leibovitz traveled to London's famed Pinewood Studios to photograph some never-before-seen characters and confirmed a rumor or two in the process. There's a lot of mystery surrounding the closely guarded Star Wars set, but a few of those well-kept secrets are finally out, thanks to these exclusive photographs from the June issue of Vanity Fair.
5/2/2015, StarWars.com
Celebrate Star Wars Day by catching up on or rewatching the entire first season of the hit animated series.
5/1/2015, StarWars.com
During their panel at Star Wars Celebration, Del Rey announced that this fall they will publish a special bind-up entitled Star Wars: Rise of the Empire. This bind-up will feature two previously published novels — Star Wars: Tarkin by James Luceno and Star Wars: A New Dawn by John Jackson Miller­ — and three new pieces of short fiction.
5/1/2015, StarWars.com
Josh Trank, who was attached to direct the second Star Wars Anthology film, has decided to depart the project.