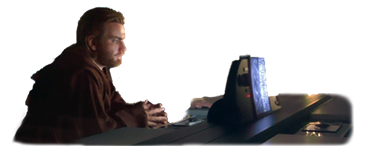 ---
4/11/2014, StarWars.com
Star Wars has spawned a universe of incredible artwork, both licensed and fan-created. Since 2006 when R2-KT became a reality thanks to the hard work of the R2 Builders organization, the pink droid has become something of her own celebrity. The fan community has embraced a cute pink droid that carries on in the memory of her namesake — my daughter, Katie — and crusades for awareness of pediatric illnesses and fund-raising for worthy charities.
4/10/2014, TheForce.net
The Hollywood Reporter has been posting a lot of exclusive Star Wars Episode VII stories, and today they're following up on their report that Episode VII will include scenes on Tatooine.
4/4/2014, StarWars.com
As we move into the next era of Star Wars, easing from the end of The Clone Wars toward Star Wars Rebels and Episode VII, it's an opportune time to take a look back over two decades to a landmark 1991 release that led us out of The Dark Times. Star Wars: Heir to the Empire by Timothy Zahn brought us into a decade that produced Star Wars Galaxy Magazine, Star Wars Insider, Shadows of the Empire, the Star Wars Trilogy Special Edition, and The Phantom Menace. It jumpstarted a publishing program that endures to this day and formalized the Expanded Universe — stories set outside of the canon established by the films and TV shows of George Lucas that make the galaxy deeper and richer.
4/3/2014, TheForce.net
It looks like CBS won't be the only network celebrating Star Wars Day (May 4) as part of its evening programming. The Hollywood Reporter has learned that Lucasfilm is also working with ABC to produce a special Star Wars episode for its series The Goldbergs that will air on May 6.
4/3/2014, StarWars.com
Bookstores and libraries will once again feel the power of the Force. Disney Publishing Worldwide and its publishing partners announced today the third annual Star Wars Reads Day, to be held October 11, 2014. Last year, Star Wars authors and costumed volunteers participated in over 2,000 Star Wars Reads Day events across North America and, for the first time, around the world. On October 11 of this year, Star Wars fans, authors, and artists will again come together in this multi-publisher initiative that celebrates reading and Star Wars. Participating publishing partners include Abrams, Chronicle Books, Dark Horse, Del Rey, Disney Book Group, DK, Klutz, Quirk Books, Random House Audio, Scholastic, and Workman Publishing.
4/3/2014, TheForce.net
Lucasfilm and the CBS TV series The Big Bang Theory have partnered to produce a Star Wars-themed episode that will air on May 1 (i.e. as close as possible to May 4, "Star Wars Day").
3/18/2014, StarWars.com
Disney and Lucasfilm are excited to announce that principal photography on Star Wars: Episode VII, directed by J.J. Abrams, will commence May 2014, and will be based at London's historic Pinewood Studios. This will be the first Star Wars film to start shooting in the month of May. Lucasfilm has documented the first day of principal photography for every installment of the Star Wars saga:
3/17/2014, StarWars.com
On Saturday, March 8, the traveling exhibition Star Wars: Where Science Meets Imagination, developed by the Museum of Science Boston and Lucasfilm, Ltd., reached a significant milestone. Twenty venues and 9 years into the exhibit's's tour (and only two weeks before it will end its tour for good), an unsuspecting family of fans walked through the doors of the Tech Museum of Innovation to be regaled as the exhibition's three millionth visitor. An overjoyed Felipe Carino, who visited with his wife and son, was showered with confetti and rushed by member's of the Tech Museum and the dutifully loyal 501st legion.
3/17/2014, StarWars.com
Disney and Lucasfilm are excited to announce that principal photography on Star Wars: Episode VII, directed by J.J. Abrams, will commence May 2014, and will be based at London's historic Pinewood Studios. This will be the first Star Wars film to start shooting in the month of May. Lucasfilm has documented the first day of principal photography for every installment of the Star Wars saga.
3/13/2014, StarWars.com
Did anyone else participate in summer reading programs as a kid? Sitting down with an engaging book was enough of a reward then (and still is), but I remember feeling excited and incentivized by earning points for stickers, bookmarks, and the best prize of all — free pizza. Nothing could keep me from burning through stories when there was pizza on the line. Del Rey's Star Wars Action Team (SWAT) has brought those feelings back with their Fancorps Community. I might not get pizza, but I can earn neat Star Wars loot and connect with fellow fans while I'm racking up points. I call that a win. SWAT was announced last summer and has been up and running for about eight months; they've recruited over 1,500 fans. Programs like this are one of the reasons Star Wars fandom is terrific. Sure, Del Rey gets word-of-mouth advertising from those participating, but it's also another way to build and reinforce the community. I talked with some fans enrolled in SWAT to get their feelings about the project.
3/7/2014, StarWars.com
The Lost Missions, the highly anticipated final season of Star Wars: The Clone Wars, is now available on Netflix. Go deep into these essential new installments with StarWars.com's episode guides, featuring detailed story synopses with stunning screenshots, concept art, and trivia. Exclusive Licensing Agreement with The Disney/ABC Television Group Brings Star Wars Content to Netflix Streaming Members for the First Time The Galactic Republic, Disney/ABC Television Group, Lucasfilm, and Netflix Inc. today announced the highly anticipated debut of the sixth and final season of the Emmy(r) Award-winning series Star Wars: The Clone Wars exclusively to Netflix members in the US and Canada on Friday, March 7. Accompanying the 13-episode new season dubbed "The Lost Missions" will be the entire Star Wars: The Clone Wars saga, which includes several director's cut episodes never seen on TV as well as the feature film. This multi-year agreement also makes Netflix the exclusive subscription service for the entire Star Wars: The Clone Wars series.
3/4/2014, StarWars.com
It's time to return to middle school in a galaxy far, far away. Jedi Academy: Return of the Padawan, the follow-up to writer/artist Jeffrey Brown's New York Times bestseller Jedi Academy, will hit stores on July 29, 2014. The cover is revealed here for the first time, featuring all the style and humor -- as well as the world's first Gamorrean Guard serving school lunch -- that made Jedi Academy a hit with fans of all ages.
2/5/2014, StarWars.com
The Empire's propaganda machine is in full effect. Six pieces of Star Wars Rebels "patriotic art" were sent to 2,500 people around the globe and select media outlets, promoting the noble intentions and work of the Empire. These bold, graphic-style cards, urging galactic citizens to accept and even join the Empire, reflect the political landscape of the upcoming animated series. When Supreme Chancellor Palpatine first declared himself Emperor, many people in the former Republic welcomed the change after the chaos of Clone Wars. As this campaign shows, the Empire continues to build upon that goodwill with glorified images of the stability and security that were ushered in by its might. It's easy for worlds newly welcomed into the expanding Empire to be swept up with such ideas, though those citizens who have witnessed the ruthlessness of the Empire firsthand know the real story.
1/23/2014, nydailynews.com
Carrie Fisher hinted she'll be returning to the "Star Wars" franchise in less than 12 parsecs, confirming the worst-kept secret in this or any other galaxy. The actress told TV Guide that she's officially signed on for director J.J. Abrams' "Star Wars: Episode VII" — and will be joining fellow Rebellion veterans Mark Hamill and Harrison Ford for filming in March or April.
1/20/2014, nydailynews.com
J.J. Abrams confirmed it's "full steam ahead" for "Star Wars: Episode VII." "We're working really hard and we've got our script and we're in deep prep," he said during the Televisions Critics Association's press tour on Sunday. "Full steam ahead." The momentum of the movie's production has forged ahead despite stalling momentarily when Michael Arndt, the original screenwriter, left the project in October. Abrams, 47, picked up the slack along with co-writer Lawrence Kasden, and together they wrote the series' seventh installment. "It became clear that given the time frame and given the process and the way the thing was going that working with Larry in this way was going to get us where we need to be and when we needed to be," Abrams said in November, according to Entertainment Wise.
1/3/2014, StarWars.com
The Walt Disney Company's Lucasfilm Ltd. and Marvel Entertainment are joining forces to bring new Star Wars adventures to readers across the galaxy, with Marvel granted exclusive rights to create and publish Star Wars comics and graphic novels beginning in 2015. The agreement marks a homecoming for the Star Wars comic books. Marvel Comics published the first Star Wars comic book, Star Wars #1, in March 1977, which went on to sell more than 1 million copies. Marvel Comics published its Star Wars series for nine years. In 1991, Dark Horse Comics took over the license, publishing fan favorite titles like Dark Empire and Star Wars: Legacy. Last year, Dark Horse released The Star Wars #1, an adaptation of George Lucas' original rough-draft screenplay for the film, garnering rave reviews and national media attention and ranking among the top-selling Star Wars comics of all time.
11/27/2013, StarWars.com
UPDATE: The Star Wars Identities exhibition heads to Paris at La Cité du Cinéma from February 15 to June 30, 2014. Find a complete a complete schedule and buy tickets at www.starwarsidentities.fr and www.ticketnet.fr. Watch the exhibit trailer now! In 2012, the Montréal Science Centre hosted the world premiere of Star Wars Identities: The Exhibition, an event that ran through September 16, 2012. Produced by X3 Productions and made possible by Lucasfilm Ltd., the exhibition is a sensational event that explores the amazing nature of human identity through the magic of the Star Wars universe and its legendary characters.
11/7/2013, StarWars.com
With pre-production in full-swing, a confirmed release date of December 18, 2015, has been set for Lucasfilm's highly anticipated Star Wars: Episode VII. "We're very excited to share the official 2015 release date for Star Wars: Episode VII, where it will not only anchor the popular holiday filmgoing season but also ensure our extraordinary filmmaking team has the time needed to deliver a sensational picture," said Alan Horn, chairman of The Walt Disney Studios.
10/24/2013, StarWars.com
As Episode VII continues pre-production, Lawrence Kasdan and director J.J. Abrams have assumed screenwriting duties for the film. Kasdan, who has been serving as a consultant on the film, is a veteran of several classic Lucasfilm productions, writing the screenplay for Raiders of the Lost Ark and serving as co-screenwriter for The Empire Strikes Back and Return of the Jedi. Acclaimed director and screenwriter Abrams' credits include Super 8, Mission: Impossible III, Fringe, and Lost. "I am very excited about the story we have in place and thrilled to have Larry and J.J. working on the script," states Lucasfilm President Kathleen Kennedy. "There are very few people who fundamentally understand the way a Star Wars story works like Larry, and it is nothing short of incredible to have him even more deeply involved in its return to the big screen. J.J. of course is an incredible storyteller in his own right. Michael Arndt has done a terrific job bringing us to this point and we have an amazing filmmaking and design team in place already prepping for production."
10/8/2013, StarWars.com
The power of the Force comes home once again! The original and prequel Star Wars trilogies are now available in the US in Blu-ray/DVD combo packs. The prequel trilogy (including Blu-ray and DVD versions of Star Wars Episode I: The Phantom Menace, Star Wars Episode II: Attack of the Clones, and Star Wars Episode III: Revenge of the Sith) and original trilogy (including Blu-ray and DVD versions of Star Wars Episode IV: A New Hope, Star Wars Episode V: The Empire Strikes Back, and Star Wars Episode VI: Return of the Jedi) collections will feature brand new cover artwork created exclusively for this release.