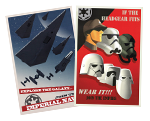 View the Star Wars propaganda posters.
Imperial Propaganda posters were recently released to promote the new Disney series "Star Wars: Rebels." These awesome posters were created by Amy Beth Christenson and a very talented graphics team. In her recent Star Wars Blog post, Christenson noted how the posters were purposely designed to mimic the styles of the 1940's or World War II era.
Examining propaganda is a terrific way to have students disect a primary document. A fun starting point may be examining the new Star Wars propaganda posters and having students discuss how the posters make them feel, how colors and imagery are used, etc.