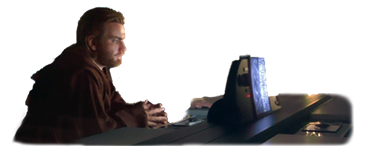 ---
8/12/2015, StarWars.com
The summer days are dwindling, but then so is the silent clock in everyone's head. It's like 1999 all over again — every day brings us closer to Star Wars returning to the big screen.
8/10/2015, StarWars.com
This October, Del Rey will publish Star Wars: Rise of the Empire, an anthology featuring two previously published novels — Star Wars: Tarkin by James Luceno, and Star Wars: A New Dawn by John Jackson Miller­ — along with three original short stories. Together, these five works will chronicle events and provide readers with new insights into the scope and power of the formidable Galactic Empire.
8/5/2015, StarWars.com
Each cover looks like they've been airbrushed by a magic wand. The seams, the tattoo patterns, and the little cracks making their way down the skull-like forehead tell us so much without a single word accompanying them. Imperfections never looked so perfect.
7/17/2015, bbc.com
"Lucasfilm & Disney didn't approve, participate in or condone the inappropriate use of our characters in this manner," said a post on the official Star Wars Twitter feed. Star Wars fans had called the photoshoot "distasteful" and "lame".
7/16/2015, ew.com
Sometimes things don't go according to plan. The fall of the Emperor, the death of Darth Vader, and the destruction of the second Death Star at the conclusion of Return of the Jedi were supposed to mark the end of the Empire, and for a generation, we believed that. With J.J. Abrams Star Wars: The Force Awakens returning to the galaxy some 30 years later, we're about to find that the celebrating was premature.
7/14/2015, dailymail.co.uk
He's long been a legend of pop culture, but now Star Wars creator George Lucas will be officially honored by Disney at its fan conference. The award has led to speculation that the conference will also be where Disney releases a glimpse of the highly-anticipated new film Star Wars- The Force Awakens.
7/14/2015, nbcnews.com
The Force was strong for a few Star Wars fans who asked director J.J. Abrams about diversity casting in upcoming installments of the beloved space opera. The exchange took place at a large discussion panel at San Diego Comic Con, a massive pop culture and comic book convention that draws tens of thousands fans and entertainment aficionados over five days.
7/13/2015, forbes.com
It can be argued that there are few movies that less needed the hype and "preach to the converted" adulteration less than Walt Disney's Star Wars: The Force Awakens. While Marvel made news by skipping the whole show this year, mostly because they didn't have anything to show beyond the ten seconds of Captain America: Civil War footage they could have cobbled together, the case could very well have been made that the Star Wars crew could have sat it out as well. J.J. Abrams's sequel is dropping in December with pretty much maximum hype and interest attached to it, and it's basically only a question of "Will it be good?" and "Will it end up in the top-ten or top-five all-time grossers list?"
7/11/2015, wired.com
"WE DO IT for the fans" is practically a cliche at Comic-Con. It's just what you're supposed to say to people who slept outside to hear you give non-committal answers about your new movie or TV show.
7/11/2015, wired.com
"WE DO IT for the fans" is practically a cliche at Comic-Con. It's just what you're supposed to say to people who slept outside to hear you give non-committal answers about your new movie or TV show.
7/10/2015, StarWars.com
Fans at San Diego Comic-Con's Hall H were treated to a special look behind the scenes of Star Wars:The Force Awakens by director J.J. Abrams, producer and Lucasfilm President Kathleen Kennedy and writer Lawrence Kasdan. The filmmakers were joined on stage by cast members Daisy Ridley, John Boyega, Adam Driver, Oscar Isaac, Domhnall Gleeson, Gwendoline Christie, Mark Hamill, Carrie Fisher and Harrison Ford to the surprise and delight of fans.
7/9/2015, ew.com
As the world prepares for the release of Star Wars Anthology: Rogue One, the now-legendary tales of Star Wars are being released in a brand new, kid-friendly format: For the first time, Star Wars retellings will be available as Little Golden Books from Random House, EW reports exclusively.
7/8/2015, StarWars.com
The Star Wars app is your official mobile connection to a galaxy far, far away. With a dynamic interface, the Star Wars app immerses you in breaking news, rich media, social updates, special events, and interactive features.
7/7/2015, StarWars.com
The next adventure in the Anthology series of Star Wars films will be directed by Christopher Miller and Phil Lord, whose credits include the critically acclaimed The LEGO Movie and Cloudy with a Chance of Meatballs, as well as 21 Jump Street and 22 Jump Street. Among the most sought-after filmmakers working today, the two have proven a formidable duo on the multiple films they've collaborated on and are looking forward to applying their unique creative chemistry to the Star Wars universe.
7/1/2015, StarWars.com
The Ghost crew. Ahsoka Tano. Darth Vader. Star Wars Rebels has changed a galaxy far, far away forever, and StarWars.com is celebrating the upcoming second season of the hit animated series with a new contest: We want you to channel your inner Sabine and create the best Star Wars Rebels art you can! In the official Star Wars Rebels Season Two Fan Art Contest, you can creatively express your love of the heroes, villains, and creatures of the show — and enter for the chance to win cool prizes that would make Vizago jealous. Submit your entries from July 1 – August 31, 2015. We'd wish you luck, but in our experience, there's no such thing as luck.
6/29/2015, StarWars.com
In August 2009 Daniel Wallace and I cheered the publication of Star Wars: The Essential Atlas, our new Del Rey book and a labor of love. For me, the Atlas was literally a dream come true. I've always been interested in the geography of imaginary places — one of the biggest influences on the Atlas was Karen Wynn Fonstad's 1981 book The Atlas of Middle-earth, which I pored over as a kid. (Fonstad's book was also invaluable in convincing Del Rey that our proposal was merely crazy and not utterly crazy.)
6/22/2015, ew.com
Speaking at the Edinburgh Film Festival, Ewan McGregor, who played young Obi-Wan Kenobi in the Star Wars prequel trilogy, said that he's definitely be up for another trip to the galaxy far, far away. And he has a very specific idea about how it could come about.
6/22/2015, ew.com
Imagine your best friend is directing a Star Wars movie and he wants you to be in the film. That's what happened to actor Greg Grunberg (Heroes, Lost), who was called by his longtime buddy and frequent collaborator J.J. Abrams after the Star Trek director landed The Force Awakens. Below Grunberg, who is signed for three films and reportedly plays an X-Wing pilot, shares his infectious enthusiasm for the eagerly awaited seventh Star Wars feature, which is scheduled to open on Dec. 18. Though Grunberg doesn't give away any spoilers (of course), it's tough not to feel excited about the new film after hearing his perspective—including how the production was so Abrams-esque secretive, even iconic stars like Carrie Fisher couldn't take their scripts home to memorize their lines (which might explain why The Force Awakens script hasn't leaked, even though several plot points from the film apparently have).
6/12/2015, StarWars.com
Are you looking for one of the greatest stars of the Star Wars saga? Well, fear not. After all, fear is the path to the dark side. You seek Yoda. This Friday, Saturday, and Sunday at Disney's Hollywood Studios, Yoda you shall find!
6/11/2015, StarWars.com
Legendary actor Sir Christopher Lee, who played the evil Sith Lord Count Dooku in Attack of the Clones (2002) and Revenge of the Sith (2005), died on Sunday in London at age 93. With a commanding voice, towering height, and powerful presence that combined nobility with a menacing flair, he brought some of cinema's most memorable antagonists to life in unique ways. This included his Shakespearean portrayal of Count Dooku, a dark-side mirror to the elder Obi-Wan Kenobi, who Lee infused with a captivating arrogance and mercilessness.